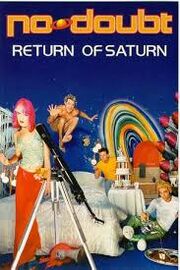 The Return of Saturn World Tour was the fourth concert tour by No Doubt. The tour was in support of thier fourth album of the same name. The tour visited ampitheaters and arenas and three stadiums in North America, South America, Europe, and Asia. Every show of the tour was filmed and a few were shown on local television stations however, no official release has ever been made available to the public. 
1. Ex- Girlfriend 
2. New
3. Tragic Kingdom
4. Hey You!
5. Magics in the Makeup
6. Sunday Morning 
7. Different People
8. Spiderwebs 
9. Happy Now?
10. Six Feet Under
11. Too Late
12. Mary Me
13. Dark Blue
14. Starting Problem 
15. Excuse Me Mr. 
16. Squeal 
17. Doghouse 
18. Trapped in a Box 
19. Total Hate 
20. Snakes 
21. Simple Kind of Life 
22. Bathwater
23. Don't Speak 
Section heading
Edit
Write the second section of your page here.